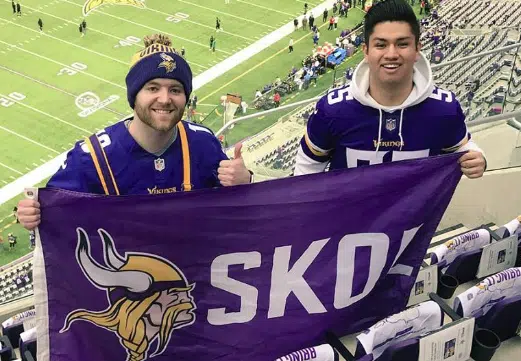 Wow. It's hard to put into words the emotions I experienced last night at U.S. Bank Stadium. Let's just say my Fitbit thought I burned over 5000 calories from the jumping up and down and rapid heart rate!
If you're living under a rock, the Vikings had a miraculous 61-yard touchdown pass to defeat the New Orleans Saints in last night's playoff game.
While fans of the team on this side of the Border may overlook the moment, considering the Packers have won four Super Bowls along with some incredible Hail Mary passes from #12, this was a one of a kind experience as a Vikings fan.
Being a Minnesota Vikings fan has never been easy. One of my earliest memories was Gary Anderson missing the infamous field goal in 1998. I've been a fan through Nathan Poole's touchdown to knock the Vikings out of the playoffs, Favre's throw across the body in the NFC Championship game and Blair Walsh wide left. While those memories have sucked, I've been a fan through and through. That's what made last night so sweet.
Now the Vikings move on the NFC Championship Game and possibly the Super Bowl after that. No matter what happens, they're now playing with 'house money' and I'll look back at the season for ages to come! #SKOL