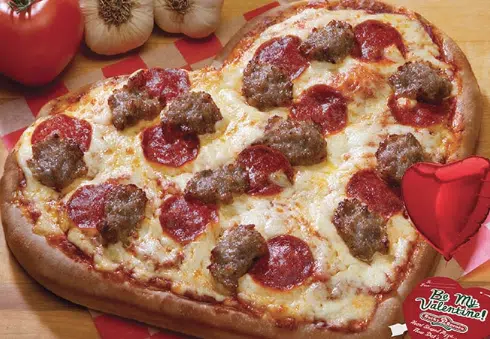 Some like chocolate on Valentine's Day, some like roses, I like pizza. I'll take any excuse to eat pizza (i.e. National Pizza Day last Friday), so heart-shaped pizza is a must for me on February 14th.
Out of curiosity, I wanted to know where I can order such a thing in the La Crosse Area. With the help of google, my girlfriend and eventually some digital advertising following all of my research, I was able to find a handful of places to get some heart-shaped 'za.
Rocky Rococo: Rocky's offers their famous Heart-Shaped Pizza, starting at only $12.99, plus a free heart-shaped balloon and pizza box.
Marco's Pizza: Order online and get a one topping Heart-Shaped Pizza for just $9.99, or get the pizza with their double chocolate brownie for $14.99.
Papa Murphy's: Get their "HeartBaker" Pizza, starting at just $7. Customers can also bring home a "Sweetheart of a Deal", which includes the pizza and a container of their chocolate chip cookie dough, starting at only $10.
Pizza Hut: Prices vary by location, but expect to pay somehwere around $13.99 for their heart-shaped pizza or do their Valentine's Bundle (Pizza + Hershey's Triple Chocolate Brownie or Ultimate Hershey's Chocolate Chip Cookie) for $18.99
Know of any other places locally? Be sure to comment below!