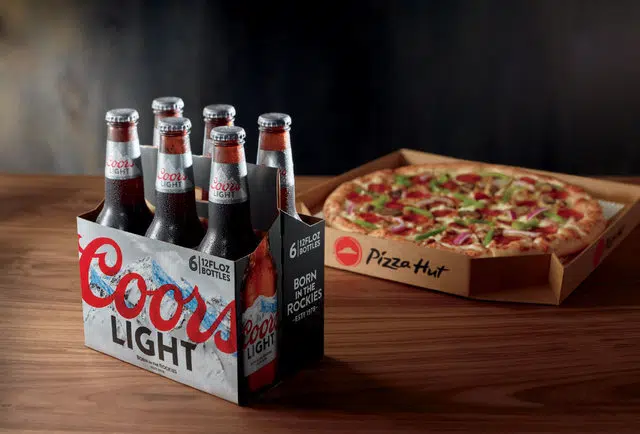 Pizza and beer delivered, what's better than that?
Before you get too excited though, I will tell you that this has not been launched nationwide yet. Currently it's only being offered at locations in Arizona and California. The good news is though, as more large companies offer this service, it's more likely others will follow suit and make your life that much easier with one less trip to the store.
-GM
********
Pizza Hut, is expanding its beer delivery pilot program. The new scheme won't involve beer-infused pies, but deliveries of six-packs from nearly 100 outposts in Arizona and California, the company announced on Tuesday. 
Pizza Hut's ploy is clear: it wants you to couple your pizza dinner with an ice-cold round of suds. With the program, the company will shave off delivery charges for Arizona residents with the purchase of Coors Light, Blue Moon, or Miller High Life six packs through Pizza Hut's website or app. California residents won't have the delivery charge waived for purchasing beers. The beer will be delivered in a "custom cooler," per a press release, as if you needed a branded vessel to carry your cheap lager.
"In addition to our extensive delivery network, many Pizza Hut restaurants are already licensed to serve and distribute beer, without third party services, additional fees, or extended wait times," she said. "Expanding the pilot program is a natural way for Pizza Hut to get our customers the perfect pizza and beer combo they're craving, delivered right to their doors."
There's no word yet on a nationwide rollout of the service.